1 day to go and then it's officially TGIF! Woohoo we are almost there lovelies!
Today is my first particpating in Thoughtless Thursdays Hosted by the totally cute Mrs. Katie over at
Life in the Fulmer Lane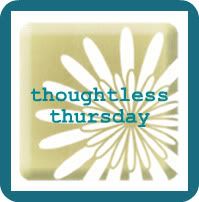 I have always love Hilary Duff ever since her days as the lovable Lizzie McGuire. Now Hilary is all grown and in case you have heard she is now a married lady.
So for thoughtless thursday I thought I'd share the photos from Hil's oh so fab wedding feature in Ok Magazine
Love the Louboutins how could you not although I think I would my shoes to have a pop of color.
Looks Magical..like a fairytale
Love the dress on her cause she looks so confident but its not for me..I like more of a full skirt dress. its the only day you can really look a princess!! go big or go home ha!
Love her flowers. the have a boy of color but don't over power the dress.
photo credit to www.hilarydweb.org
What did you think of her wedding?